Just as fast as U.S. stocks tumbled in what was the worst-ever start to a year, they have staged one of the biggest turnarounds in history — and yet all anyone seems to focus on are the negatives.
An advance of 0.9 percent in the 119-year-old Dow Jones Industrial Average Thursday wiped out a year-to-date decline that swelled to as much as 10 percent in February, making investors whole 11 weeks into a year that was shaping up to be a disaster. It's the fastest that a retreat of 10 percent or more has ever been reversed this early in a year, data compiled by Bloomberg show.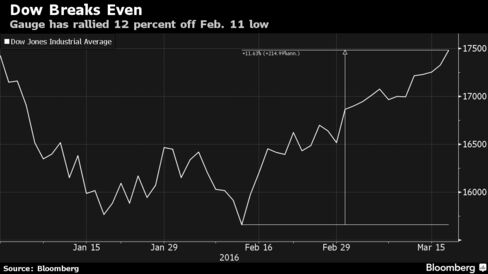 And while the rebound was welcome news to investors who held on through January and February, signs of celebration were few. Strategists who frantically reduced forecasts as shares plunged have kept cutting on the way back up. Estimates for U.S. profits are getting worse. And a day after Federal Reserve policy makers lowered forecasts for gross domestic product, chunks of the market remain mired in losses.
"We're back to where we were, but still the dynamics are not bullish," Rich Weiss, the Mountain View, California-based senior portfolio manager at American Century Investment, which oversees about $140 billion, said in an interview. "The rebound is not economically driven. There is very little difference in economic indicators from the end of the year through today."
Starting one day after global stocks slipped into their first bear market since 2011, the 30-member Dow average has surged 12 percent in 24 days, erasing a decline that had swelled past 10 percent with the help of seven separate daily advances exceeding 1 percent. The Standard & Poor's 500 Index is right behind, closing Thursday at 2,040.59, about 3 points below its level at the end of 2015.